Traffic Patterns in Indianapolis, Indiana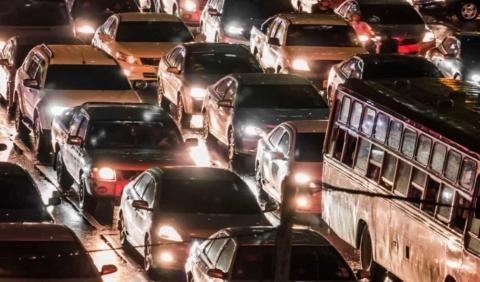 As the cultural and economic epicenter of the Hoosier State, Indianapolis is home to over 850,000 residents making it the 13th largest city in the country. A city of this size has entertainment, employment, and wonderful unique attractions; for example, Indianapolis is home to the largest children's museum in the world. With exhibits on American pop culture, dance, and space, it's a place where families from all over go to learn and have fun. Nonetheless, all great attractions come with the burden of the unescapable traffic.
Although Indianapolis traffic doesn't rival places like Los Angeles or Chicago, it's still heavy enough that commuters will benefit from insightful information to help limit drive time. Follow our top tips below for beating traffic in Indy.
 
Rush Hour Indianapolis
The Indianapolis area is greatly spread out, with a total of 35, 826.1 square miles, it can take over 30 minutes in good traffic conditions to get between Indy and the suburbs, and at least an hour during rush hour. Weekday traffic is worst between the hours of 7 A.M. and 9 A.M. and again between 4:30 P.M. and 7 P.M. 
Inclement weather or big city events like the Indy 500 can clog the roadways even more. During such events, morning rush hours are between 6:30 A.M. and 9:30 A.M. and afternoon rush hour usually runs from 4:30 A.M. and 7:00 P.M.
 
Busiest Stretches of Indianapolis Interstate
According to The American Transportation Research Institute, Indianapolis has three of the country's worst 100 bottlenecks, or localized disruption of vehicular traffic on a street, road, or highway. As opposed to a traffic jam, a bottleneck is a result of a specific physical condition, often the design of the road, badly timed traffic lights, or sharp curves. They can also be caused by temporary situations, such as car accidents.
Here are the most heavily traveled and frustrating stretches for drivers:
The I-65/I-70 North Split
The I-65/I-70 South Split
I-465 and I-69, another heavily congested area for Indy.
Highway 60 (also known as "Death Row") is one of the deadliest highways in Indiana. It is around 60 miles long, with a two-lane road that winds through Lawrence County and ends in Sellersburg, passing through Clark, Lawrence, Orange, and Washington counties. A high number of fatalities have occurred on this stretch of highway.
 
Busiest Non-Interstate Streets in Indianapolis
Here we've compiled a list of the busiest streets in the state. Take a quick glance and take into account if you are visiting or on your morning commute, you should probably try to avoid these high trafficked streets.
North Meridian Street:
East Washington Street:
North Shadeland Avenue
East 82nd Street
West 82nd Street
Madison Avenue 
Worst Intersections in Indianapolis
Although it's important to drive carefully at all times, we urge you to exercise extreme caution if you are going to be traveling in any of the five most dangerous intersections in Indianapolis. When driving through any of the following intersections, you are going to want to pay close attention to your surroundings to avoid a motor vehicle accident. 
These streets have some of the highest injury rates in Indianapolis:
 
21st Street and Shadeland Avenue
This intersection is surrounded by hotels, restaurants, and shopping centers. With four lanes of traffic running in both directions on 21st Street and three lanes on each side of Shadeland, there are multiple opportunities for collisions.
Madison Avenue and Stop 11 Road
With grocery stores, gas stations, and drug stores at corners of the intersection, the intersection of Madison Avenue and Stop 11 Road has up to four lanes of traffic, turn signs that are hard to read, and no crosswalks on three sides.
38th Street and Franklin Road
These cross streets are not as heavily populated as others but they are lacking in crosswalks, which puts pedestrians at risk for serious injuries. Franklin and 38th is also an intersection where people frequently travel at a higher rate of speed because there isn't as much traffic.
86th Street and Keystone Crossing
Keystone Crossing is home to the Fashion Mall at Keystone and is congested with hotels, restaurants, and places to shop. There are many entries and exits at the shopping centers, few crosswalks and bike paths for pedestrians and cyclists, and up to five lanes of traffic going away from the mall with only two going in.
38th Street and High School Road
Another heavily populated intersection right off I-465, 38th Street and High School Road, features five lanes of traffic leading to and coming away from the interstate. The lanes are faded and right-of-ways are hard to distinguish. There are also only a couple of pedestrian crosswalks: one across High School Road and one crossing 38th Street.
 
The History of the Indy 500
Indiana is well known as the "Racing Capital of the World". And when people visit for the legendary Indianapolis 500 you can expect well over 100,000 people visiting from all over the world. Whether you're a racing fan or not, these events will not only bring along parades, music and people, but also lots of traffic. While you won't be able to move at the pace of one of the finely tuned machines running on race day, just take a peek at our favorite tips that will help keep you and your crew moving along.
 
One of the most famous roads in Indy is not a road at all. In fact, the track at The Motor Speedway is most famously known for the Indy 500: a race that is 200 laps, 500 miles long.
The circuit, a 2.5-mile oval, was originally designed as an automobile test track but the first 500-mile race in 1911 was so successful it became a regular fixture. In the course of time, the track, which was originally paved with bricks (still used to mark the finishing line), was adapted to cope with ever-increasing speeds. The speedway has a permanent seating capacity of over 250,000, making it the highest-capacity sports venue in the world.  
In addition to the Indy 500 the speedway also hosts The Brickyard 400 NASCAR Race and the Red Bull Indianapolis GP.
 
Preventing Traffic in Indianapolis
It's not hard to find your way around the city of Indianapolis. People visit Indy not just because of the Indianapolis Motor Speedway. People flock to this city for the food, state parks, museums, and war memorials.
 
Luckily, for you, we have compiled a few tips to help you navigate the city and avoid high traffic areas.
Ride the Bus: If you live relatively close to your work, take advantage of public transportation opportunities. While Indianapolis lacks a light rail system, the bus is timely and takes you to most of the important commercial, residential, and entertainment districts in the city. Other options for reaching the destination include Amtrak, Greyhound, and Megabus, which all have hubs in the downtown area. 
Use Express Lanes: Indianapolis doesn't have carpool lanes, sometimes called HOV lanes, but it does offer some relief from the traffic with express lanes. If you're traveling near the I-65/I-70 junction, merge into these lanes to avoid traffic that's headed towards local exits. This can often save you up to 15 minutes if you're headed in that direction.
Listen to the Radio: Whether you get ready for your day with a heavy dose of Metallica or Taylor Swift, turn off your music and turn on the radio. Most stations tend to send out traffic updates involving accidents, disabled vehicles, or other congestion so you can take a different route to your destination. You can tune to WIBC 93.1 FM to get real-time traffic updates.
Resources for Traffic Patterns in Indianapolis
There is no doubt you are bound to hit some traffic on your daily commute, but a well-informed traveler has better odds of beating the traffic. Give these options a try before getting on the road to help ensure your commute is fast and efficient:
Whether you're on major highways in Indianapolis or on city streets, don't let the traffic spoil your drive and your mood. Follow these tips and you're sure to have a smile on your face from Point A to Point B.
If you need some further tips on how to plan an amazing road trip to the wonderful city of Indy, then we got you covered. You can read some amazing tips and tricks that will allow you to make it an unforgettable road trip.  
 
Remember to always drive safely and, most of all, make sure you are covered. Get a free auto insurance quote with Access Auto Insurance!