How to Jump-Start Your Car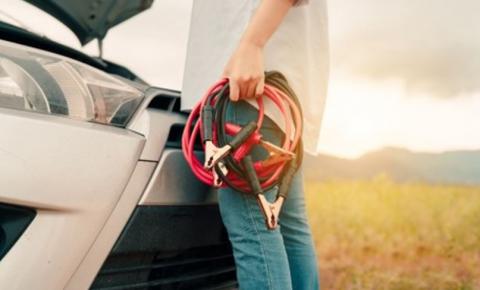 It has probably happened to you before. You go to turn on your car, and nothing happens. Maybe you hear a few clicks, but your car won't start. Your first thought is maybe it's just another dead car battery, but what if it's something more serious? In order to get back on the road, there are a few different tips and tricks you can try before calling your trusty mechanic.
If you are prepared, you already have a good set of jumper cables inside your car. Now, all you have to do is find someone willing to help you jump-start your vehicle. Here you will learn the safest and most effective way to do so.
 
How to Jump-Start a Car
Luckily, you don't need many tools to get your car up and running again. First, you must flag down a good Samaritan with an operating vehicle to ask them for assistance. Once you and the person helping you identify the battery's terminals, all you have to do is get your jumper cables out. Once you've done this, you are ready to follow these six easy steps on how to jump-start your car. And remember if you don't feel safe enough to flag someone down get in your car, lock the doors and call your local roadside assistance or non-emergency police number.
 
 1.  Take out your jumper cables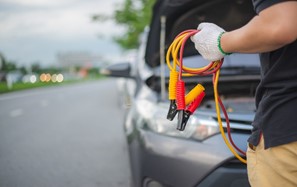 Begin by parking the cars close to one another, making sure both
vehicles are turned off
. Pop the hood on each car and locate the batteries. The hood lock may be different for each car, so make sure to feel around the lip of the hood. Your car should also have a hood supporter that you can use to prop it open while you jumpstart your car. Also, be sure that your jumper cables are untangled and the clamps work properly.  
2.  Safety first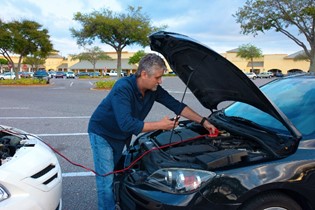 Park the vehicles so that they are facing each other, preferably about 18 inches apart, but
never touching each other
. For automatic transmission cars, put the vehicle in park; for manual transmission, set the vehicle to neutral. Don't forget to
set the parking brakes
on both vehicles, so neither car moves unexpectedly.  
3.  Attaching the jumper cables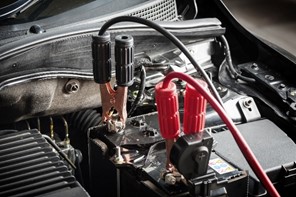 Once you open the hood to both cars, you must locate the batteries (refer to the owner's manual for battery location) and battery terminals. Usually, the two terminals on each battery will be covered in either red or black rubber cap (older vehicles may have them exposed), with a + or – sign on the top. Identify which is positive, and which is negative. This distinction is
crucial
to the success of your jump. If the battery terminals are dirty, wipe them off with a rag or wire brush.
First, connect the red (+) clamp to the positive terminal of the dead battery. Then, attach the other red (+) clamp to the positive terminal of the working battery. Then, connect the black (-) clamp to the negative terminal of the working battery. Finally, attach the remaining black (-) clamp to an unpainted metal surface of the dead car. 
4.  Start your engine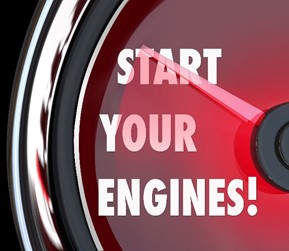 Once you have attached the jumper cables correctly,
start the working car
. Wait a few minutes before attempting to start the dead car. Depending on the age of the battery and how long it has been since it died, you may need to let the car run for a couple of minutes for the jump to work. Be aware that it may take a few tries for the dead car's engine to turn on.
Important Note
: When you turn the key to the dead car, make sure to turn and hold only for a few seconds in order to
avoid flooding the battery.
5.  Removing the cables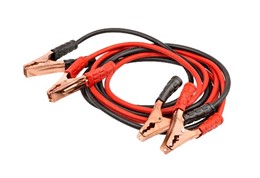 If the jump works and the dead car starts, do not turn it off. Leave the cars attached and allow the dead car to run for 10 to 15 minutes. When you are ready to disconnect, remove the cables in the reverse order of how you attached them.
Begin by removing the black (-) clamp from the metal surface of the dead car, then remove the black (-) clamp from the negative terminal of the battery.
After that, remove the red (+) clamp from the positive terminal of the working battery and finish by removing the remaining red (+) clamp from the positive terminal of the dead battery.
6.  Recharge the battery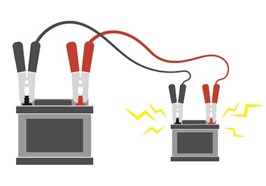 Once your car turns on, make sure to drive around for at least 15 minutes to recharge your battery. This is a crucial step you will not want to skip.
If your car doesn't start the next time you use it, it's a good indicator that the battery is not holding a charge and you will most likely need to replace it entirely.
 
Can You Jump-Start a Car in The Rain?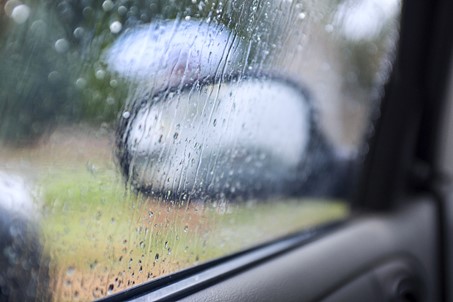 If you are ever faced with the task of having to jump-start your car in the rain, do not worry there are a number of precautions to take in order to avoid injury.to note that the electrical system in cars has very low voltage; therefore, jump-starting a car in the rain is safe and will not cause any harm to you. Since the voltage of your car is not high enough, there is no danger of being electrocuted. Always take into account that water is an excellent conductor of electricity and you should always proceed with caution.
To be extra cautious, make sure that the cables or any other electrical components of the car are placed safely. Always put everything in the right way and order as this will decrease the chance of short-circuiting the battery. 
 
How to Jump a Car with a Battery Pack
As you probably know, keeping jumper cables in your vehicle is essential. But jumping batteries on cars built after the year 2000 may turn out to be a bad idea. That is because newer vehicles are built with as many as a dozen computers and even more digital devices.
Jump-starting with cables connected to a running vehicle can create a voltage surge large enough to fry expensive computers in either vehicle. And, since most of these components communicate on a shared data bus, which simply put is a communication standard that allows the various modules and computers in your vehicle to talk to one another. And a simple surge damage to just one computer or digital device (even a radio) can disable the entire data bus, preventing the vehicle from starting and costing hundreds to repair.
Many people are unaware that this can happen.ou can cause expensive damage to your own vehicle simply by providing a jump to someone else if you're not careful. The bottom line is that dealing with a dead battery in modern vehicles requires new equipment and techniques. Understanding the different types of portable packs that can help you jump-start your car properly if you own a newer vehicle can help prevent damage that may occur.
 
Power Pack vs Jumper Pack
Emergency portable power packs and jumper packs look alike, but they're built with different batteries. A power pack battery is designed to provide low power for long periods, while a jumper pack battery is designed to provide maximum power for short periods; in order to start a deeply discharged vehicle battery. A power pack can usually provide enough power to jump a slightly discharged vehicle battery, but that can shorten the life of the unit.
Uses for a power pack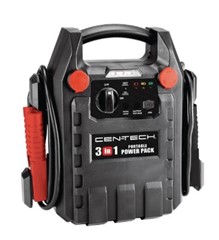 Light up a work area
Inflate a spare tire
Power port sockets for recharging phones and tablets during a power failure
Jump a slightly discharged vehicle battery
Uses for a jumper pack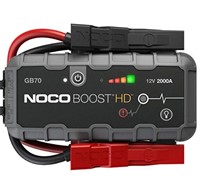 Jump-start a dead battery
Now that you know the difference between power and jumper packs we are going to help you choose the right one for you. First, you can ignore the pack's peak amp rating. Peak amps don't indicate the pack's ability to start a vehicle; instead, look for the units' Cranking Amps (CA) rating. You need a minimum of 225 CAs to start a four-or-six-cylinder engine. If you have a larger engine or want more power, find a pack with 400 or more CAs.
Another aspect to keep in mind is that you need to make sure to keep your jumper pack charged; as they require regular charging. You can't charge a pack, throw it in your car for months and expect it to work when you're faced with a dead battery. Recommendations vary, but we suggest recharging a jumper pack at least once every 30, 60 or 90 days. If you don't keep it consistently charged, its battery will degrade to the point that it won't hold a charge. If you maintain it properly, it can last you several years.
If you have a newer vehicle and you use jumper cables, you may be looking at a minimum of $500 for a tow, diagnostic fee, labor and parts. Be proactive by setting a reminder to recharge your battery pack as we recommended above.
 
The Bottom Line
We know that dealing with a dead car battery is never an ideal situation. Thankfully, everyone who owns a vehicle has most likely experienced this problem before and would be willing to help. In addition to the statements above, we are a few, last tips you can implement to prevent this unpleasant situation from happening before it does:
Don't forget to turn off your lights after parking your vehicle.
Make sure your battery is checked and serviced regularly.
Remember to keep your battery clean.
Try to limit turning your car on and off suddenly.
It is essential to know how to jump-start your car safely when you get stuck with a dead battery. We encourage you to take the necessary precautions to maintain your vehicle and encourage you to be insured so you can have peace of mind when you hit the open road. Having auto insurance is another proactive measure you can take to be a safe driver.  If you are interested in learning more about auto insurance, explore our website and get a free quote from Access Auto Insurance.