Traffic Patterns in Phoenix Arizona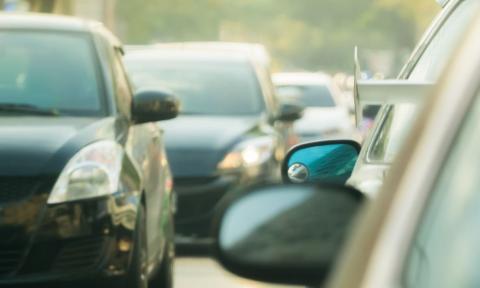 If you find yourself frustrated over the amount of traffic in the Phoenix area, we have good news for you: It could be worse.
The traffic in the Phoenix area ranked above nearly 20 other U.S. metropolitan cities, according to Inrix's 2017 traffic scorecard.
The so-called traffic scorecard measures how long often people are stuck in traffic in a specific area. Phoenix, it found, was the 25th-most congested city in the nation. Phoenix does indeed face some congestion, mostly during rush hour, but compared to other major cities, the traffic is not too bad.
According to The Arizona Republic, Phoenix traffic is a lot better than most people assume. Despite the city's high population, the freeways move quite well; rarely will you find yourself in a complete standstill. According to U.S. Census Data Phoenix drivers have some of the quickest times to drive one mile during rush hours.
 
Rush Hour in Phoenix
In Phoenix, the problem isn't necessarily sitting in traffic. According to the data, area drivers have some of the quickest times to drive one mile during rush hours.
However, the sprawling character of the Phoenix metro area means commutes are longer. The worst time of all is between 5 -6 p.m., when the average driver spends 46 minutes behind the wheel. The streets also get very congested in the morning between 7 a.m. and 9 a.m.
 
Busiest Stretches of Phoenix Interstate
Loop 101: On Loop 101, the stretch between Broadway Road and Apache Boulevard/Main Street is the most congested segment on the entire freeway. This area ranks so high because of its proximity between two other freeways, U.S. 60 and Loop 202.
Interstate 10: The most congested segment of Interstate 10, which extends for 392 miles in Arizona, is in Tempe. ADOT data shows that stretch of freeway not only is the busiest along I-10, but the busiest section of any freeway in the entire state.
U.S. 60: This route through Arizona includes the major east-west freeway in the southeast Valley that extends from Interstate 10 in Tempe to Apache Junction. According to ADOT figures, the stretch between Alma School and Dobson Roads is the most congested segment 
Loop 202: Loop 202 in the southeast Valley spans Tempe, Mesa, Gilbert and Chandler. The busiest stretch in the region and the busiest on all of Loop 202 is between the Rural Road and Priest Drive/Center Parkway exits. The southern portion of Loop 202 in the southeast Valley becomes most congested where it intersects with Loop 101 in Chandler.
Busiest Non-Interstate Streets in Phoenix
Baseline Road: Baseline Road is a significant east-west arterial road. Due to the ease of navigation on this extremely long route, as well as the significant number of municipalities the route encompasses, it is a favorite street for those electing not to use Phoenix's many freeways, such as I-10 and US 60.
Bell Road: Bell Road is a major east-west arterial road in northern metropolitan Phoenix. Bell Road is one of the few roadways to cross the Agua Fria River in the northern part of the metro area, providing a vital link between the growing suburb of Surprise with Phoenix. As a result, the portion of Bell Road passing through Surprise and Sun City is the busiest arterial road in the state of Arizona.
Mill Avenue: Mill Avenue is a historic street in north Tempe near Arizona State University. The street runs through a popular, pedestrian-friendly shopping and nightlife district. Today, the avenue plays host to many bars, designer shopping stores, as well as many fairs, and city festivals.
Central Avenue: Central Avenue extends from South Mountain Park to North Mountain in Phoenix. The Central Avenue Corridor, roughly from Camelback Road to McDowell Road, is one of Phoenix's most heavily trafficked stretches of roadway. The Central Avenue Corridor bisects the area known as Midtown, Phoenix — a collection of neighborhoods north of Downtown and south of the North-Central and Sunnyslope areas.
Grand Avenue: The portion of U.S. Route 60 that enters Phoenix from the northwest Valley is known as Grand Avenue, a street which slices through west Phoenix at a 45-degree angle. It represents the final leg of US 60 into the heart of Phoenix.
Indian School Road: Indian School Road runs continuously east/west for approximately 41 miles with the Salt River Pima-Maricopa Indian Community at the east end and Buckeye & Maricopa County White Tank Mountain Regional Park at the west end. It intersects with Arizona State Route 101, Arizona State Route 51, Interstate 17, US 60/Grand Avenue and Arizona State Route 303.
Most Scenic Street in Phoenix  
If you are looking to soak in some picturesque scenery, then The Apache Trail is the way to go. Though you will face narrow tights and turns the peak will deliver jaw-dropping portals to canyons, cliff dwellings, jutting rock formations, sparkling blue lakes and the dense desert flora.
This 40-mile trail is best explored during the day, or as a half-day outing experience. The trail starts at the intersection of Arizona State Route 88 and Idaho Road in Apache Junction, about 35 miles east of downtown Phoenix.
On your way up the trail, you can stop at any of the scenic pullouts along the Apache Trail. Most popular is the Goldfield Ghost Town, which offers a tour of a former gold mine. You can also visit cliff dwellings before you end up in Globe. 
The Apache Trail is not only charming but also legendary. You will be amazed at the many scenic pullouts and stop-worthy attractions along the Apache Trail.
 
Preventing Traffic in Phoenix
When it comes to getting around Arizona, the major interstate highways may be the fastest option, but the state roads are far more scenic and may be a better alternative.
Here are a few tips to follow when trying to avoid high traffic areas Phoenix:
Take 51 instead of 17: If you live in north Phoenix between State Route 51 and Interstate 17, you should take SR 51.
Take 202 instead of 60: If there's an accident on the U.S. 60, Loop 202 may be quicker for you.
Frontage Roads: If a highway has turned into a parking lot, you have an easy Plan B since most of the highways have frontage roads; roads that run parallel to the freeway.
West Valley Surface Streets: Highway choices aren't as plentiful in the West Valley. One survey of traffic times shows that people had more luck using streets that avoid the highway when driving to Phoenix from the west side.
Beat the Mini-Stack: The Mini Stack is the interchange of Interstate 10, Loop 202, and State Route 51, which can be the worst location for traffic in Phoenix. There's one way in and out of it that seems to clearly be the best (although it's only for East Valley-ers). If you're trying to get downtown from the 51, keep going onto I-10 East, and take the Jefferson/Washington Street exit. This takes you to 20th Street and Washington, making this an especially good choice for visits to Chase Field or Talking Stick Resort Arena, as well as the rest of downtown.
Phoenix to Tempe: Instead of taking I-10 from Phoenix to Tempe, drive through the airport, which takes you to State Route 143 (or Loop 202). With the width of Sky Harbor Boulevard, you should be able to get through the airport unimpeded by traffic at the terminals.
Carpool: You've seen the speedy HOV lanes while you're sitting in the rest of the lanes of traffic. This one's no secret!  
Check the Cameras: Before you take a highway, check the cameras so you can avoid driving right into ridiculous traffic.
Resources for Traffic Patterns in Phoenix  
There is no doubt you are bound to hit traffic while driving in the Valley of the Sun, but a well-informed traveler has better odds of beating the traffic. Explore the below resources to help you navigate Phoenix roadways. Give these options a try before getting on the road to help ensure your trip is fast and efficient!
The official app of the Arizona Department of Transportation, ADOT Alerts, is a free must-have app for those who travel Arizona's highways. ADOT Alerts provides real-time information to travelers about unplanned, major events that are impacting traffic so informed decisions can be made to avoid lengthy delays or potentially dangerous situations.
Visit az511.gov or dial 511 for updated road and weather conditions. But remember: never use a cell phone or mobile device while driving.
If you become stranded or observe someone stopped on a highway, the Arizona state government offers Roadside Motorist Assistance (RMA) through the Arizona Department of Public Safety.
Arizona locals and visitors must learn to navigate their way through Phoenix traffic. Our best advice is to avoid anything that could distract you while driving. Be sure to look out for pedestrians, bicycles, motorcycles. Most importantly, learn the roads; if there's an accident on the road, you need to have a backup plan.
Once you master the busy highways and streets of Phoenix, you can plan a weekend getaway. Don't forget to drive safely and always make sure you have the best insurance.