Tips for a Road Trip in Arizona and Indiana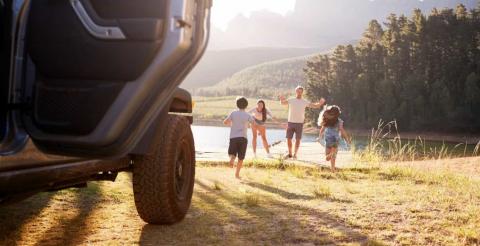 Hitting the open road for adventure can be exhilarating, but also overwhelming. That's why we've compiled a list of our favorite traveling by car tips to help you enjoy your next highway getaway and make it the best road trip ever.
 
1. Do Your Research
Figuring out where to go can be the hardest decision when it comes to road trips. If you are not sure where you'll be traveling on Memorial Day, we have some great suggestions for you.
First, take the time to look at some travel blogs. Scour websites like the Travel Channel for some great inspiration, or ask friends and family members for recommendations. Once you know where your final destination will be, do some extra research so you can get an idea of all the options for pit stops and begin to make a general plan.
Make sure you've got your basic route worked out, your A to B, but don't have every single mile written in stone. It's important to leave room for the unexpected turns, the snap decisions, and the "I wonder what's down there?" moments.
If after some research you're still unsure where to go, keep scrolling! We jotted down our favorite local getaways in Arizona and Indiana at the end of this blog.
 
2. Know What Car to Take
The type of car you need depends on your destination, trip type, and how many people will be traveling and take into account how likely you are to need a 4-wheel drive, high clearance, or a convertible.
If you need to rent a car, make sure you book well in advance as many other people will be traveling on Memorial Day Weekend and you don't want to miss out on a reservation. We recommend you choose unlimited mileage (unless you're absolutely positive about the length of your trip) and make sure you carry the appropriate insurance coverage.
If you're planning on using your personal vehicle, take into consideration that a road trip can be hard on a car. Before you go, you need to make sure your car is up for the challenge — the last thing you need is to break down in the middle of nowhere.
So needless to say, a great tip for a cross country road trip is to make an appointment with your mechanic so your car can get the necessary maintenance before hitting the open road.
If you plan to check your car before a road trip yourself, don't forget to inspect:
Windshield wipers
Tire pressure
Headlights
Brake lights
Turn signals
Fluids (including windshield wiper fluid and oil pressure)
3. Take Your Time
Taking your time means you'll have time for the spontaneous things to happen, and for some awesome unexpected experiences to take shape.
Aside from the fun moments, remember to account for other unexpected stop, in case you:
Stop for gas
Get a flat tire
Need a restroom break
Get involved in an accident
Have car issues, like an overheating engine
Need to buy food or drinks
Get stuck in traffic
While there's a chance some of these won't happen on your trip, it's always good to make extra time – just in case!
 
4. Tips for Long Road Trips with Kids
If you're going on a long road trip it's important to plan ahead for snacks and entertainment. We recommend you download your favorite podcasts or a great audio book ahead of time. We also suggest you don't forget to create a playlist so you have plenty of your favorite tunes for the open road.
If you're traveling with small children make sure you have tons of things to keep them happy during the long road trip. Activities like movies, road games, drawing tablets, and comic books can make the trip that much better.
Here are some of our favorite tips for traveling with toddlers by car:
Avoid syrupy or sticky foods on your road trip if you value your upholstery
If you're traveling with a baby in a car seat never unbuckle them to breastfeed while on the road
Do not give unsupervised rear-facing babies' bottles or finger foods
Remember that sweets make kids happy for about a minute until the high octane burst of energy can morph into an epic freak out. We recommend you pack some fruits and veggies along with some healthy, filling snacks.
 
5. Limit Liquids
Don't dehydrate the kids or yourself, but don't ignore the reality that random drinks lead to random bathroom breaks.
One sneaky way to quench thirst without having to drink too much water is to munch on some grapes. They also serve a purpose as a healthy snack, so it's a win-win!
 
6. Keep Things Clean
Everyone will stay calmer in a clutter-free car, so toss trash at every stop and tackle messes ASAP. Keep travel packs of baby wipes and plastic bags stashed in every door.
Don't neglect personal hygiene on family road trips either. Pack some dry shampoo, chap-stick, and travel-size deodorant to make sure you stay fresh.
Another important tip for a long road trip is to keep an extra change of clothes relatively handy for every traveler, as unexpected spills and messes can always happen.
 
7. Proof of Insurance and ID
A driver's license is a no-brainer, but make sure you have a hard copy of your proof of insurance!
In addition to these documents, make sure your tags won't expire during your trip and double check you have the proper registration forms.
If you need to make sure you have proper coverage while on your trip, get a free quote with us.
 
8. Traveling by Car with Your Pet
If you plan on traveling by car with a cat or a dog here's what you need to know to make sure everyone has a fun and safe trip:
Ask your vet for a copy of your pet's medical records
Schedule sufficient bathroom breaks for your pet
ID and/or microchip your pet
Make sure your hotel is pet-friendly
No matter what size your pet is we recommend they travel in a crate. You may be a safe driver but not everyone is, and in a worst-case scenario the last thing you want is for your pet to be thrown from the car.
Even crates can be thrown through windows in the course of an accident, so make sure that you tie the crate down, either on the floor of the back seat or on the seat with the seat belt. Also, remember that traveling by car with a dog or traveling by car with a cat means that you must bring sufficient pet food and water for the entire trip.
 
9. Stay Safe
If you're traveling on Memorial Day Weekend, keep in mind many people will be doing the same. We urge you to make sure that you stay alert and be mindful of other drivers so you can make sure everyone gets to their destination safely.
We also recommend you let friends or family members know where you are going. This is of high importance as you want to make sure your family and friends know where to find you in case of an emergency.
Make sure that you purchase an emergency kit and double check for jumper cables — one can never be too prepared when traveling by car. We also recommend you keep a few gallons of water in your car at all times, and if you have the room, a gallon of gas is a good idea too.
Remember to have fun and to take tons of pictures not just for your Instagram, but for your family album. Traveling on Memorial Day can become a great family tradition and road trips are about making memories, exploring and discovering new places. Take it all in, enjoy every minute of it and make the best out of every experience.
Happy road tripping, freeway pioneers!
 
Best Memorial Day Weekend Getaways in Arizona
This Memorial Day weekend you can attend ceremonies and remembrances all around the Valley of the Sun. You can also enjoy some quality time with the family by going to any of the events that are planned across the state.
 
Gilbert Historical Society's Memorial Day Ceremony (May 27)
Hosted by the Gilbert Historical Society and the American Legion Post 39, the Memorial Day ceremony will take place on the lawn of HD South Building, also known as the Gilbert Historical Museum.
The hour-long ceremony will start at 9 a.m. and include a flag ceremony, the laying of the wreaths, recognition of veteran's military service. It is a free event, and people are encouraged to bring lawn chairs as seating is limited.
 
Litchfield Park Memorial Day Ceremony
The City of Litchfield Park will hold a 30-minute Memorial Day ceremony at the WW II Memorial on the west side of Litchfield Elementary School.
There will be patriotic music, a floral tribute, the playing of "Taps," a prayer and moment of silence, and a memorial presentation. The ceremony will start at 7 a.m. Parking is available at the school.
 
Splash Bash at Odysea in the Desert
Are you looking for a family-friendly activity for Memorial Day Weekend?
Odysea in the Desert is hosting "Splash Bash" over the Memorial Day weekend, May 25-27. There will be foam parties, water slides, a fire truck where people will be able to spray the hose and help extinguish a fire, and a "water squirter battle zone."
The event happens each day from 11 a.m. - 4 p.m. Admission is $5 per day or $10 for a weekend pass. 
 
Memorial Day Weekend at Salt River Tubing
Those looking for some fun in the sun over the Memorial Day Weekend may want to float down the Salt River.
The first 500 tubers will receive a free patriotic lei. They will also be passing out special bags to help collect plastic and other trash along the river. Tube rentals are $17, plus taxes and fees. 
 
Summer Kick-off Party at LUSTRE Rooftop Bar
LUSTRE, the rooftop bar on the third floor of the Kimpton Palomar Phoenix hotel in downtown Phoenix, will host its "Summer Kick-off Party" on Saturday, May 25 from 1 p.m. - 5 p.m.
There will be live music, craft cocktails, private cabanas for rent, and grilled barbecue dishes. Best of all, there is no cover charge! 
 
Andaz Scottsdale
This Scottsdale resort is hosting events over the Memorial Day Weekend for guests. The resort will have a Bacardi Lime Launch Party at its Turquoise Pool with a Bacardi booth and cocktail specials throughout the weekend.
On Saturday, May 25, the resort will have a cookout with burgers and hot dogs on the Studio Lawn. At 8 p.m. the resort will screen the movie "Top Gun" at the pool. Those not staying at the resort can buy a day-of "Resort Pass" for $30-$60. 
 
Maya Day + Nightclub
The Scottsdale day club will host CID on Friday, May 24, its in-house DJ on May 25 and Dimitri Vegas and Like Mike on Sunday, May 26. 
 
Best Memorial Day Weekend Getaways in Indiana
Memorial Day Weekend is a great excuse to spend some quality time with the family. Here's what's going on in The Hoosier State during Memorial Day Weekend:
 
Fort Wayne's 24-hour Watch Fire
The tradition of the 24-hour Watch Fire goes back to the Civil War when it was initiated to help guide the wounded soldiers back home after battles.
In keeping with tradition, the fire will be lit at 9 p.m. and continue until Saturday at 9 p.m. Visitors may throw a log on the fire in honor of a veteran who has passed. Children and families welcome and are encouraged to bring lawn chairs, beverages (alcohol is allowed!) and snacks.
 
Memorial Day Parade and Ceremony in Fort Wayne
Bring your lawn chairs and gather to watch the Fort Wayne Memorial Day parade at 11 a.m! 
The procession begins at the corner of Parnell Avenue and State Boulevard and follows Parnell to the Allen County Memorial Coliseum. A Memorial Day ceremony will immediately follow at the Coliseum just outside the Memorial Hall.
Then, enjoy a Memorial dedication for WWI veteran Harold Schwarz at the Greenlawn Memorial Park from 11:00 a.m. to 2:00 p.m.
 
Enjoy Fort Wayne's Parks
Fort Wayne is home to many beautiful parks and trails perfect for a walk or picnic, if weather permits!
As temperatures rise, you may find comfort in the water. All ten splash pads among the Fort Wayne parks will open Saturday, Sunday, and Monday. 
Northside Pool in Northside Park, (corner of East State Boulevard and Parnell Avenue), will also open Saturday for the Memorial Day Weekend.
 
Head to Indy for Great Live Music
There always fun to be found in Indianapolis, and live music is usually part of it. Head over to the Buck Creek Winery to watch The Headliner Band – a Memorial Day tradition for the vineyard.
Great food trucks plus high-quality music equals fun for everyone in the family!
 
The Indy 500
It's impossible to talk about Memorial Day in Indianapolis without mentioning the Indy 500.
Get your tickets to the largest spectacle in racing and watch some of the best drivers in the world race at the Indianapolis Motor Speedway.
 
Find Things to do in Chicago for Memorial Day Weekend
If you're located in Northwest Indiana, then you know Chicago is a short drive away! Spend the weekend in the Windy City and discover all it has to offer.
 
Wherever you decide to spend Memorial Day in Indiana or Arizona, make sure you're properly covered with Access. Get a free car insurance quote today!